Tow Bar Trailer Mounted VCR
---
The Tow Bar Trailer Mounted Elevating VCR provides operational space for up to 3 ATC Controllers (ATCOs) and a walking supervisor. It is a self-contained, air transportable solution with sufficient storage for external ATC systems, deployment tools and equipment. The trailer can be towed by any 8000kG truck equipped with a tow hook and air brakes. A small team of 2-3 personnel can deploy and be operational within 2 hours of arrival. The internal ATC Equipment fit is designed with the customer to suit their specific needs and aircraft movement levels.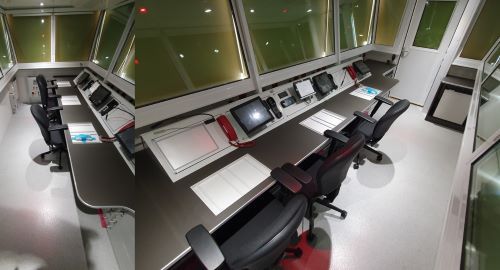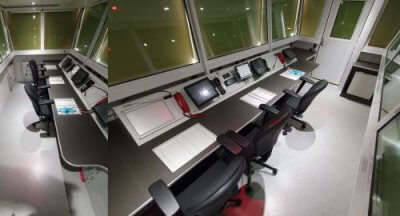 ATC Solutions
The 9 Bay operator's console is designed to house a wide range of communications equipment including Radios, Voice Communications Switch, Voice Recorders, crash telephone, Meteorology equipment, and a UPS to provide hold up power for critical systems.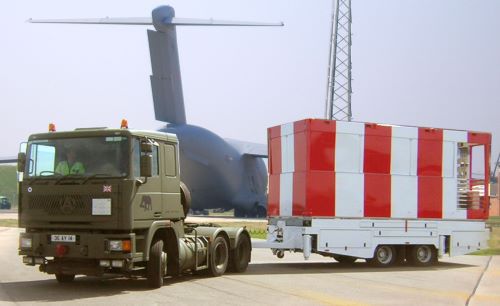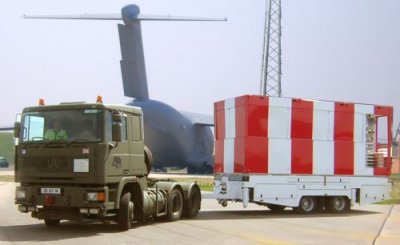 Deployment and Storage
Sitting on dual axles and "Super Single" wheels the active air suspension on the trailer can be raised to a higher ride height for improved rough terrain performance. Side belly lockers and space in the VCR allows all deployment equipment to be packed on the trailer. The VCR Cabin can be dismounted for air transport.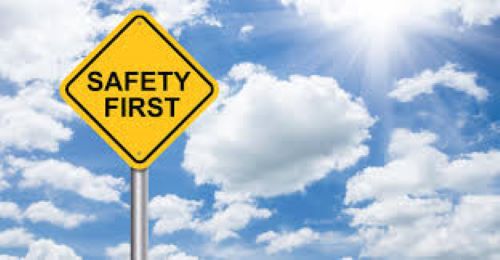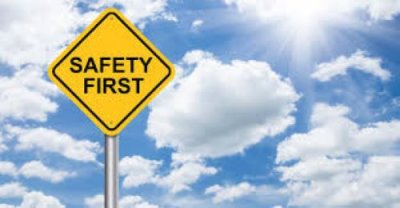 Safety
The personal safety of technical and operational personnel is considered in all aspects of the MATC design with safety systems built into the mechanical, hydraulic, and electrical elements of the system. Operational safety is provided by resilient and redundant solutions in accordance with customer requirements.
Tow Bar Trailer Overview Overview
---


Equipment Mounted in Operator Console
Taken during installation this image indicates the mount of equipment that can be installed into the console. Equipment shown is customer specified and MATC is supplier agnostic building to customer requirement. A hinged, LED under-lit counter-top allows engineering access when complete.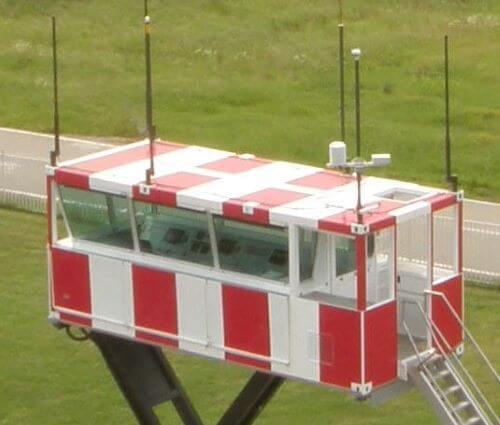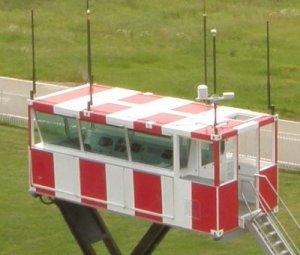 Roof Mounts
Easy to install roof mounts allow antennas, obstruction lights, meteorology sensors, ident beacons, and any other equipment to be mounted on the roof prior to elevation. A Connection panel on the balcony provides the interface to the various systems.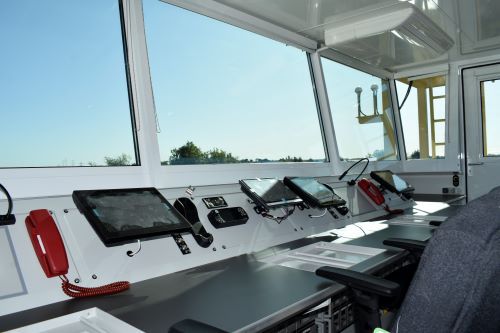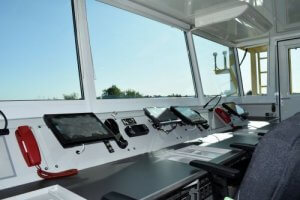 Fully Equipped
The MATC 5th Wheel Elevating Trailer provides a fully equipped, transportable, environmentally controlled, and insulated workspace that is designed to be similar to a static ATC Tower.  It provides the same facilities as might be expected from any VCR but is transportable to where it is needed.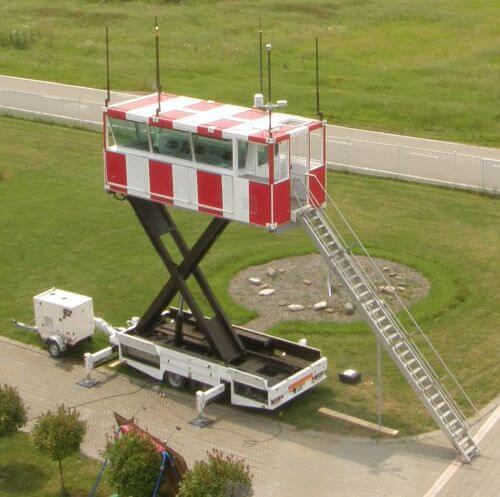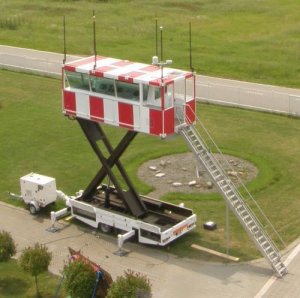 Self Contained
The Tow Bar Trailer is a self-contained, C130 transportable, self-levelling elevating VCR that can be deployed in under 2 hours. Stairs, railings, antennas, and all ATC equipment are stored onboard the trailer. An optional small trailer mounted 16kVA generator for deployment power is available.


Air-Transport
For air-transport the VCR cabin is removed from the trailer by disconnecting and stowing the umbilical cables, unlocking the corner ISO-Locks and simply winching onto the aircraft ramp. The trailer is equipped with a set of rollers and the VCR Cabin has a solid steel floor to facilitate movement on the aircraft handling system.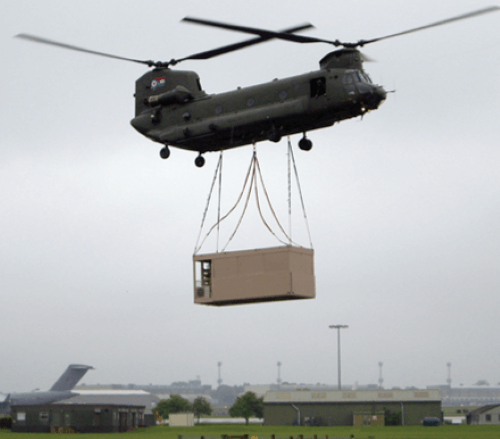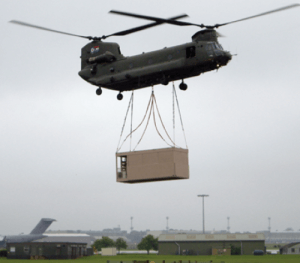 VCR Cabin
The VCR cabin is designed to be airlifted and strops can be attached ISO-frame corners to under sling from the aircraft.


Safety Systems
Automatic self-levelling and safety interlocks prevent the cabin from being raised until the trailer is correctly positioned. All hydraulics are equipped with check valves to prevent failure and the main lifting Ram is positive drive up and down. Safety Locks are also raised in the intermediate and fully raised position to prevent any possibility of accidental lowering.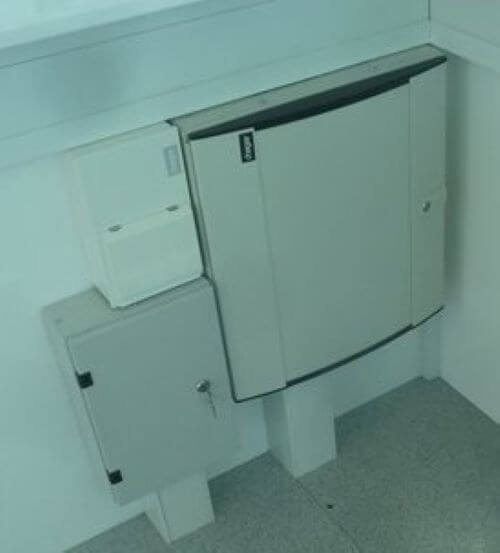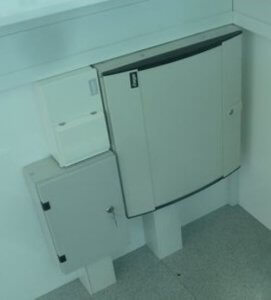 Electrical Systems
Electrical Systems are installed to IEE 18th Edition Regulations. Residual Current safety devices are installed on the mains distribution circuits and the UPS distribution circuits, and an independent 3rd party test is carried out on every installation. Earth Plates and Earth rods are provided to ensure good earth connections can be achieved during deployment.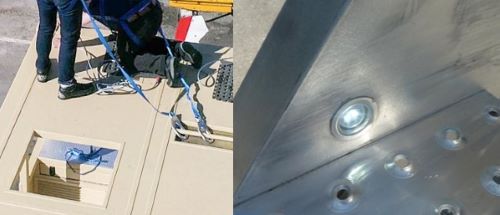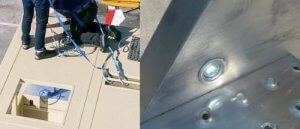 Personal Safety Features
Personal safety features include LED Lighting on all steps, safety rails on stairs and balcony access, and karabiner safety rails recessed into the roof to assure safe working at height when deploying antennas and obstruction lights.
MATC NEWS
---
Find out why our customers love our products, and how they help them achieve success.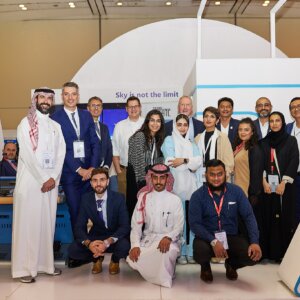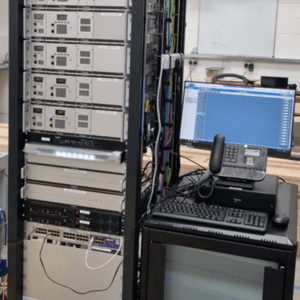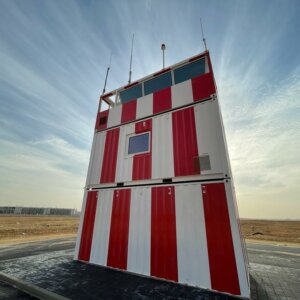 Accreditation
---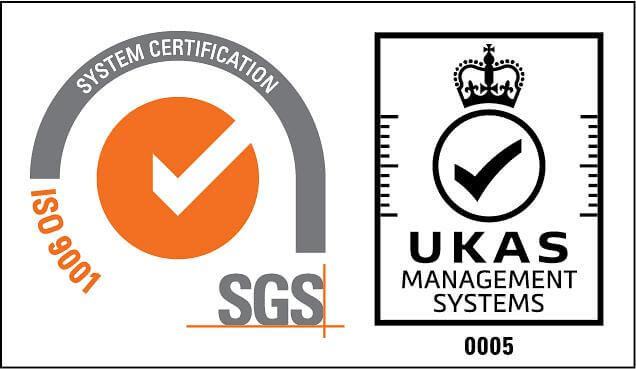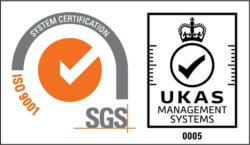 East Midlands Chamber of commerce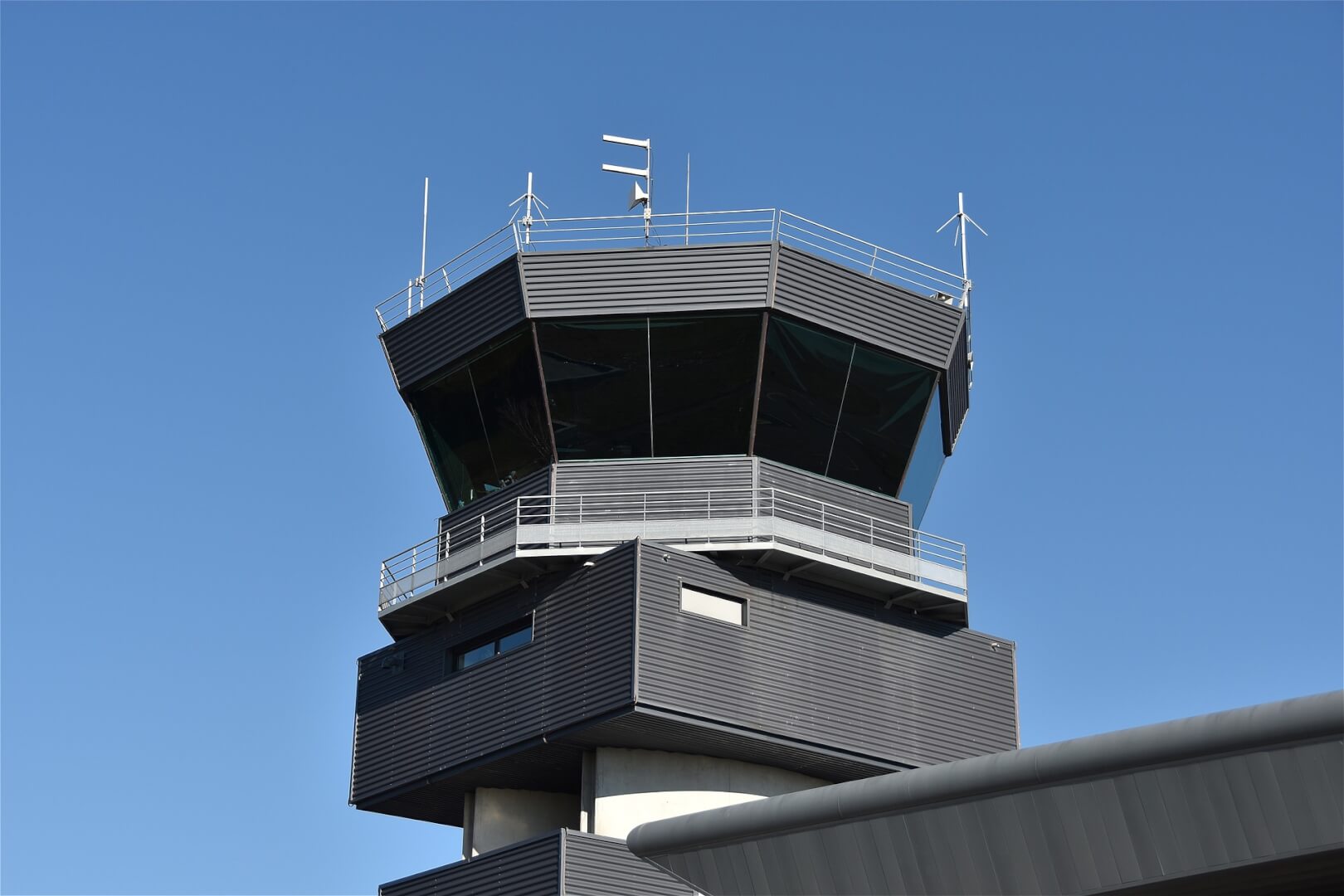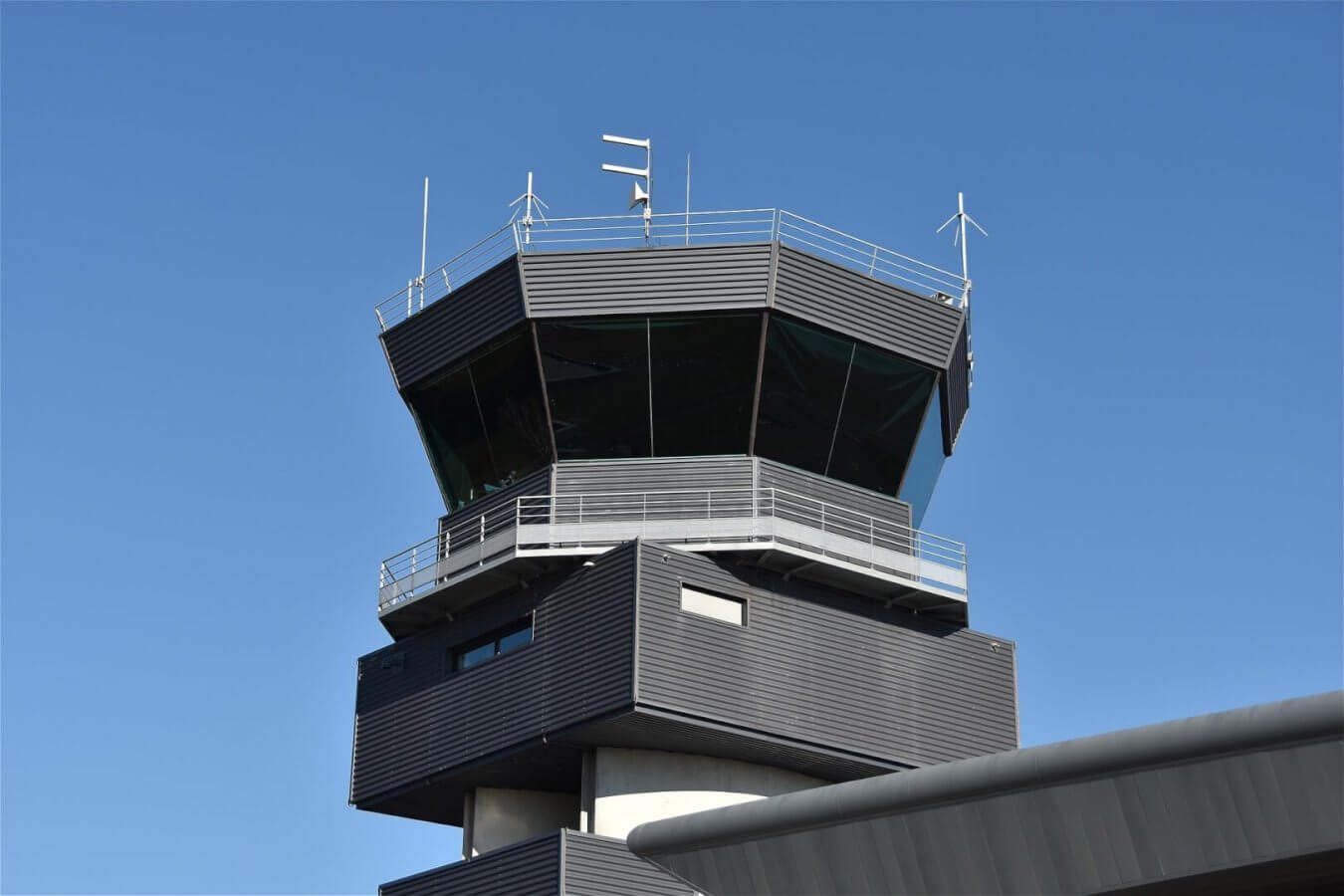 FAQ's
---
Why use a Tow Bar Trailer VCR
The Tow Bar trailer is more compact and lighter than the 5th Wheel version plus it can be towed by an HGV vehicle equipped with a tow took. This may be preferred in countries where 5th Wheel prime movers are less common or are not suited to the operational terrain.
Where is everything stored?
There are a number of belly lockers on the trailer for storing antennas, stair rails, tool kits and antenna mounts. The main stairs are stored in a roller equipped locker close to where the fold down access stairs are which enables easy installation. Additional lashing points in the VCR can be provided to allow storage of transit cases in the Ops area.
What is the maximum wind speed for operation?
The large trailers are designed to be operated at 3 heights, fully elevated, medium height and lowered. At the maximum height, the maximum wind speed calculations show wind speeds in excess of 100mph can be sustained. MATC advises each customer to do their own risk assessment based on local regulations for the risk of injury when entering and leaving the VCR during high wind speeds as this is a greater risk to operators than overturning.