Mobile ATC Solution provides Business Continuation for Lithuanian Airports
ORO NAVIGACIJA (ON) are the first Airport Authority in the Baltic region to have a fully Mobile Air Traffic Control Tower as part of their Contingency Planning.
The Mobile Air Traffic Control Tower, manufactured by Mobile ATC Systems in the UK provides 100% ATC capability 24/7 at Vilnius airport and can be quickly moved and deployed to other airports in Lithuania. Forward-looking Tomas Tamašauskas – the Technology Development Manager at ON, has ensured all Lithuanian Airports have a common capability; a concrete base, control box connected to the mains and importantly fibre optics that provide the mobile ATC controllers with aircraft approach, runway and ground movement information, weather data and communications.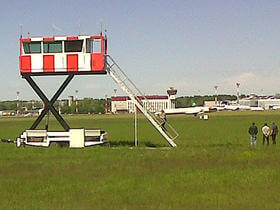 Michael Brunton, CEO of MATC said at a recent training visit; "ORO NAVIGACIJA management has shown the way forward in the region to cope with the eventuality of a catastrophic ATC failure, therefore minimising disruption to operations".
Tomas Tamasauskas in Vilnius said; "The motive for purchasing the Mobile Air Traffic Control Tower was to provide all airports in Lithuania with a quick deployment back up ATC capability within SWIM enabled features by using common fibre links that have been installed at all Lithuanian international airports. Mobile ATC Systems were flexible so we (Oro Navigacija) were able to use in house facilities to integrate the MATC Cabin to meet our needs; this has worked very well for us."
Tomas added: "The MATC Tower is fully operational within 15 minutes of our personnel arriving at the site so an excellent response with the visual capability for all operators. There is a wide range of services available through high-capacity communications. The MATC tower has brought additional benefits for future ATM provisions in ORO NAVIGACIJA as it can act as a remote tower but with 360-degree uninterrupted vision, additionally, some remote ATM services can be tested and validated from the MATC tower."