Container and Frame Mounted Modular ATC Tower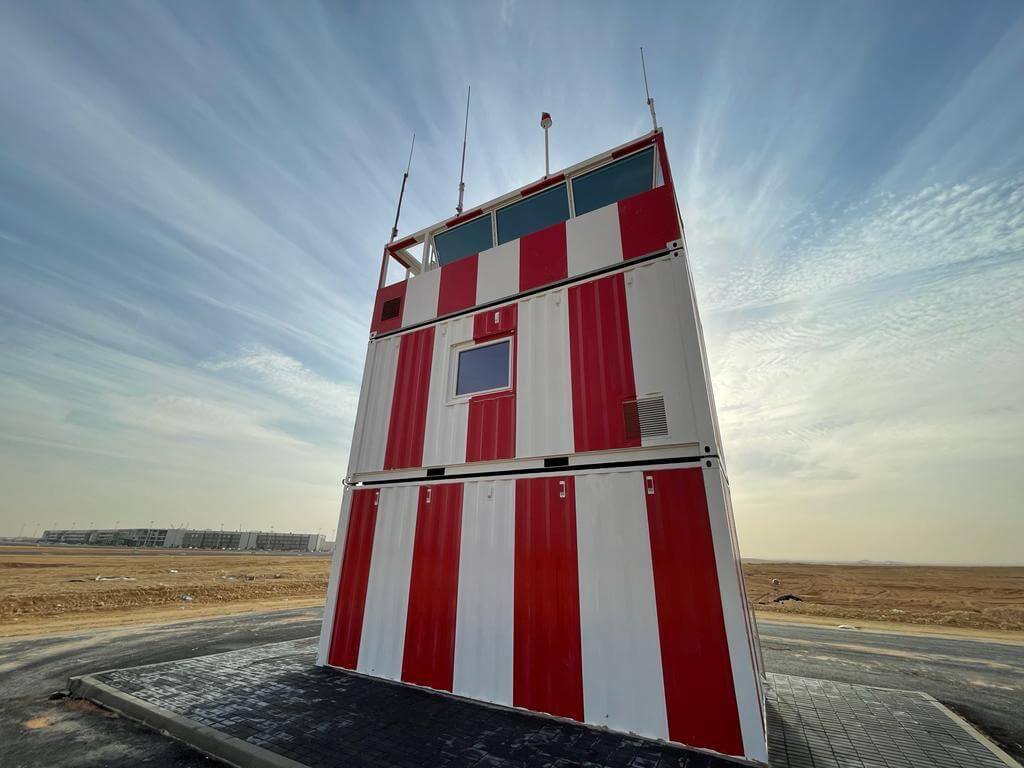 The Container and Frame-mounted Modular ATC Tower solutions are intended for applications where trailer mobility provided is not required but rapid relocation can still be achieved using standard vehicles and lifting equipment. Available in standard 20ft (6.1m) and 10ft (3m) sizes, the Modular ATC Tower provides a transportable solution that can be supplied as a temporary solution or as a longer-term low-cost ATC Tower for smaller airports and airfields. MATC can also work with end-users to provide bespoke solutions to suit customer requirements.
This solution can still be delivered and erected using standard vehicles and cranes or HIAB equipped vehicles of a suitable tonnage. The towers are built, configured and tested offsite and utilise pre-built cables and plug/socket connections to allow simple on-site delivery. Erection time is very short and depending on configuration operations can usually start within 1-2 days of delivery.
Internal configuration, including equipment rooms, control rooms, crew rooms, offices, and welfare facilities can be supplied as required. An independent generator can also be housed in the lowest container within its own acoustically isolated room providing fall back supply and automatic changeover. Furthermore, if the concrete foundation pad and securing bolts are large enough (calculations will be supplied) significant VCR heights can be achieved by stacking multiple containers with up to 4 or 5 support containers possible. This would provide a significant amount of space for internal configuration.
Internal stairways are also available, and although the cabins are subsequently wider than standard containers, these can still be transported by road with the appropriate escort. LED-lit access for all tower designs are fabricated to match the specific dimensions of the tower and access platforms are provided at access points to the various containers. Emergency egress is provided for the enclosed stair structure.
If requested all control and equipment rooms can be equipped with shock-mounted consoles and racks. Standard VCRs will house a 9-bay console (large VCR) or a 5-bay console (small VCR) which are equipped with 19" rack mounts. Consoles can be designed to meet a specific need. Consoles can either provide equipment space for the ATC Equipment or if support containers are provided, this can be housed in equipment racks in its own dedicated space. Consoles are equipped with day and night (Red) gooseneck lighting for each operator and a dimmable LED lighting strip is located under the console to provide lighting for the engineers as well as background lighting. The console script can also be hinged to allow easy access to the equipment.
Low E, tinted, double glazed windows provide insulation and glare control, and industry-standard blinds are installed as standard. Aluminium covers are also provided to protect
the windows in transit. Mobile ATC is happy to discuss any individual needs with prospective customers and this can include welfare facilities as well as other operational requirements such as
emergency service facilities that can be embedded into the tower construction.
Significant cost saving over traditional ATC Tower construction can be made by the installation of a well-designed modular tower which if properly maintained will provide decades of use for airports where traditional ATC towers may be unsuitable.